Working & Studying with Children
A word from our KSOP Gender Commissioners: "We are employees in different fields and we all have children. Hence, we recently faced rather non-scientific challenges, like changing diapers, bottle-feeding, in short: combining family and work in daily life. We want to share these experiences with all KSOP members and offer assistance and counseling in all upcoming questions, regarding all parental matters."
Child care and the associated work-time constraints have remained major obstacles for a career in science. Therefore, KIT has implemented equal opportunities in every day working conditions. The KIT family portal was established to inform all employees and students about options for ensuring the compatibility of studies, job, and family. Since 2010, KIT is certified and audited as family-friendly university (familiengerechte Hochschule) and has been recertified in June 2017 for the second time. Within this audit all measures serving the compatibility of job and family are monitored and advanced. KSOP members and doctoral researchers profit from these activities such as flexible working time models. This means that KIT offers its employees to work according to flexible schedules. For family reasons, also mobile work, work at home offices may be applied for in agreement with the superior. For planning meetings as well as for work in commissions and bodies, superiors and organizers are obliged to find family-friendly dates and times. Furthermore, parents are supported by the Parental Leave Program. This holistic program of KIT is aimed at supporting, advising, and accompanying employees during parental leave and at accompanying their re-entry into the job by providing advice and assistance. Personal conversations concentrate on practical issues, such as child allowance, continued education, and childcare. KIT and KSOP support the compatibility of job and family by a comprehensive childcare concept that is based on three pillars: All-day childcare, holiday care, and emergency care. Since 2008, KSOP supports the KIT childcare institution "Räuberkiste" by funding a 0.5 daycare position. The funding for this measure had to be reduced in 2019 due to financial restrictions, but we still offer 5 kindergarten slots per year for KSOP members. Since 2010, 13 children of KSOP members have been using this service for several years. Furthermore, KSOP provides financial support for child care and financial aid upon request to the KSOP Executive Board as well as monetary support for travel costs for accompanying children/ partners/ nannies.
Information and Helpful Links
Personal Counseling
Do you have any questions concerning pregnancy or parenthood? Don't hesitate to contact us! Possible topics include:
Exchange of experiences
Maternity protection and parental leave
Assistance with formalities
Compatibility of family and work
Any questions regarding maternity and paternity
Dr.-Ing. Judith Elsner
Managing Director
judith elsner ∂does-not-exist.kit edu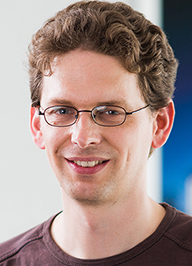 Martin Lauer
Institut für Mess-und Regelungstechnik (MRT)
martin lauer ∂does-not-exist.kit edu