Karlsruhe Days of Optics & Photonics 2019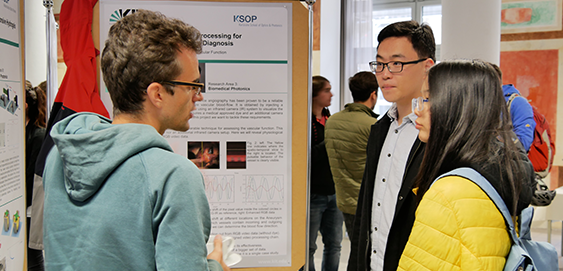 KSOP is hosting the two-day symposium Karlsruhe Days of Optics & Photonics (KDOP)! Optics & Photonic students, researchers, professionals, and experts are invited to KDOP, where there will be various presentations of new research and work within the Optics & Photonics community, including speeches from internationally renowned experts. At KDOP, participants will meet representatives of academia and industry and receive the opportunity to network and exchange ideas, as well as learning the latest developments.
The symposium will highlight the five research areas of KSOP (Photonic Materials & Devices, Quantum Optics & Spectroscopy, Biomedical Photonics, Optical Systems and Solar Energy) and provide our doctoral research the platform to showcase their research results in a detailed poster session.
The Karlsruhe Days of Optics & Photonics will take place on September 9 - 10, 2019
Location: KIT Campus South: Tulla Hoersaal (Building 11.40)
Englerstrasse 11
76131 Karlsruhe
Click here for directions to Tulla Hoersaal.
Conference App