Offering extra opportunities for exchange between our students, leading experts in O&P and industry partners beyond the ordinary template is one of our core competences. As KSOP stands for a close partnership to industry, we offer Industry Events, Scientific Events as well as Career Fairs to combine both intentions.
As the best way to make an impression is to experience it on your own, we offer an MSc Open Day. Interested future MSc students can get an insight into KSOP.
Furthermore, KSOP participates at several exhibitions worldwide and at KIT events giving the opportunity for getting in contact with interested students.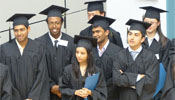 Making the last day at KSOP a day of celebration, we support our graduate students in organizing their Graduation Ceremony. As our graduate students are the main characters that day, we want them to get an Graduation Ceremony  according to their own wishes ideas.